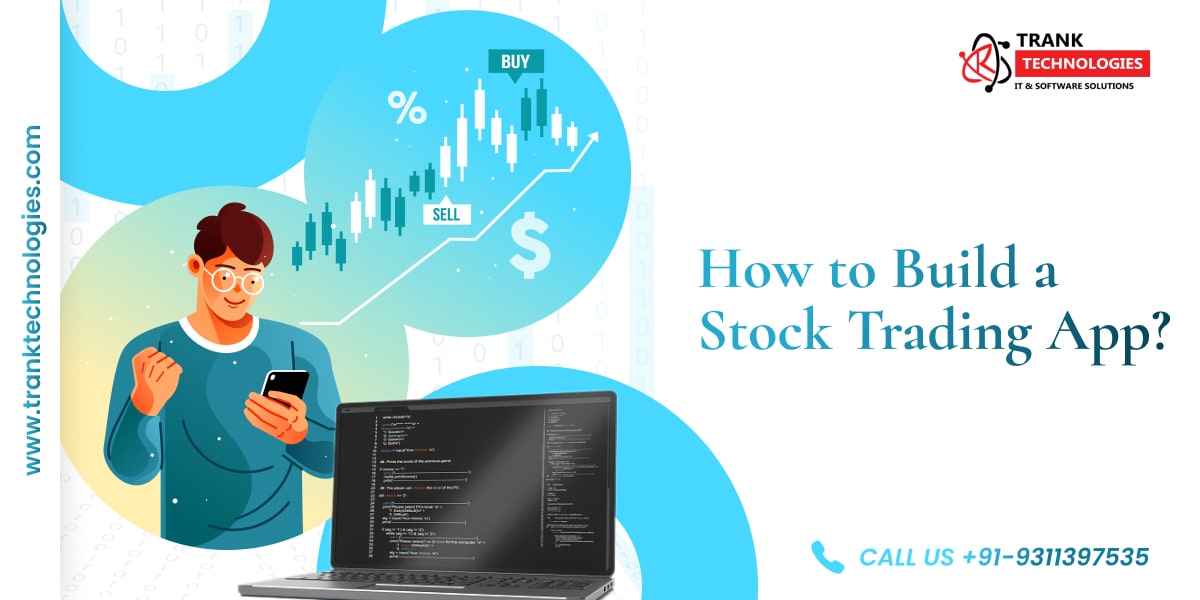 How to Build a Stock Trading App?
In recent years, the popularity of stock trading apps has skyrocketed, providing investors with a convenient and user-friendly platform for stock trading. It is an online platform that helps users buy and sell stocks, manage their investment portfolios, and select trading strategies. 
When it comes to merits, stock trading applications also offer automated trading systems that allow users to monitor them effectively. It is useful for both long-term investments and short-term transactions.
Developing a stock market app is not uncommon. However, determining the trading app development cost in India can be challenging. Thus, it is integral to invest wisely.  
Simple Steps to Build a Stock Trading App
Stock trading app development company in India have become increasingly popular, offering investors easy-to-use platforms. Listed below are the steps involved in building a stock trading app by professionals that you must know before investing. 
Step 1 – Conduct Market Analysis
Before you engage a stock trading app development agency in India to create a stock trading app, it is important to conduct market research. This will help you gain insights into market trends, identify audience needs and determine the necessary features for the app. Conducting market research is crucial to understand what you will be offering to users and establishing the requirements for app development and trading app development cost in India.
Step 2 – Choosing the Features of Your Stock Market App
After finishing your research, you need to assess which basic and advanced features you want to incorporate into your stock market application. While deciding on these features, keep in mind that your users want a simple way to monitor and handle their stock investments.
Step 3: Assemble a Development Team
If you have an idea for a stock trading app, you will need a development team to make it a reality. India has many talented stock trading app developers who offer competitive rates. You can find a reputable development company or hire freelance developers with experience in building finance or trading apps. Ensure that they possess a robust collection of work samples and relevant experience.
Step 4: Initiating the Stock Trading App Development Process 
After employing the agency, their stock app development team will create a customized stock app solution for your company. They will provide you with a timeline, trading app development cost, and SRS to outline your project. The business analyst team will then create a wireframe of the app to show you how it will navigate and provide an overall outline. Once the wireframe is finished, the UI/UX team will use tools like Adobe XD to add colors to the design. They will create a sample design to understand your color preferences.
Step 5: Testing and Launching the App
Once your stock trading app is created, it undergoes testing by mobile app quality assurance testers to ensure there are no bugs. During this testing process, the app's functionality, logic, and design are evaluated to determine if it is working correctly.
You can also read : Reasons Why User Experience Design is Crucial for Trading Apps
Key Features to Look for in an Online Stock Trading App
Investors and traders are turning to stock trading web apps as they offer an easy means to oversee investments and track market trends. 
Features are essential components of mobile apps that enhance their interactivity and distinguish them from competitors. Whether they aim to boost user engagement or offer an exceptional user experience, features are crucial in achieving objectives. Listed below are the key features of an online stock trading app:
1 – Transaction Management
This is the most crucial aspect that can impact the trading app development cost. It is the incorporation of a feature that enables the recording and monitoring of all transactions between a user's account and the app for stock trading. This feature should be implemented in a highly secure manner and provide real-time updates.
2 – Market Data Collection
Investors require information on the current popular stocks and up-to-date market analysis in order to make informed investment decisions. This feature provides users with knowledge of stock performance, allowing them to invest in profitable options.
3 –  Stock Analysing
Investors and traders can benefit from utilizing the search feature in a stock trading app. This allows them to find popular stocks in India.
4 –  Multiple Payment Options
Customers like to feel unassailable when they're investing online. Having different payment options will build trust. Therefore, ensure your stock trading application has multiple payment methods offering a mix of protection and ease of use for a better customer experience. 
5 – User-Profile Management
There should be a feature where Investors are able to modify their preferences at any time. The user profile management option enables them to adjust their profile to match their current interests in stock trading.
6 – WatchList
This feature is essential for users as it allows them to monitor the performance of a particular stock in the market and save it in their watchlist for future buying or selling. They can save all the stocks they are interested in and easily access their current trading cost, eliminating the need for repeated searches.
Conclusion
When it comes to developing a stock trading app, careful planning, choosing the most appropriate development strategy and accurately estimating the cost is essential. It will help you employ the best stock trading app development company in India. However,  The trading app development cost in India can fluctuate depending on various aspects, including the design and features of the app.
FAQ'S
Q1. What factors determine the trading app development cost in India?
Ans. The trading app development cost in India depends on several factors such as:
The complexity of the app

Desired features

Design intricacy

Development duration

Developer hourly rates.
Q2. How can one estimate the trading app development cost?
Ans. When estimating the trading app development cost, it is important to take into account various factors such as:
The app's features

Design

Platform compatibility

Backend development

Testing

Deployment

The cost of ongoing maintenance.
Q3. What is the average trading app development cost in India?
Ans. The trading app development cost in India can fluctuate based on different factors like complexity, platform compatibility, and development team fees. Typically, the cost ranges from INR 2,00,000 onwards. It is crucial to consult with a development team for an accurate cost estimate.
Q4. Are there any ongoing costs associated with running a trading app?
Ans. Running a trading app incurs regular expenses such as server hosting, bug fixes, updates, customer support, data storage, and third-party service fees.
Q5. Can the cost of developing a stock trading app be reduced?
Ans. The trading app development cost can be reduced by choosing required features, prioritizing development tasks, using existing technologies, etc.