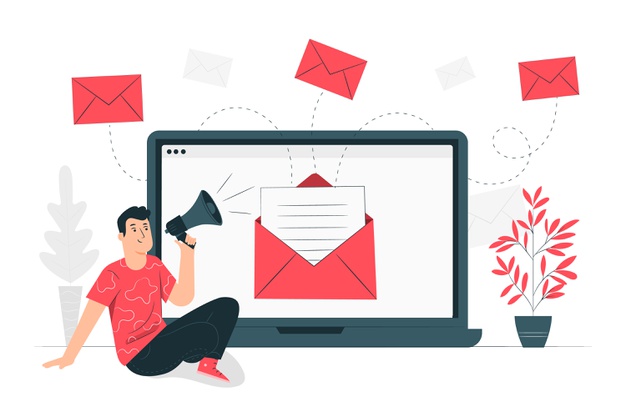 Why is Email Marketing Still Very Important?
How Important is Email Marketing for Your Business?
Every click is a wish. Every unread email is a genie in a bottle.
When did you last open your email? Do you have a social handle that is not linked with one of your email ids? In 2019, the number of global e-mail users amounted to 3.9 billion (Statista). Internet technology is evolving every day and giving more power to digital marketers. Digital Marketing has grown all giant than ever before. Every day new channels and platforms are being generated to create interaction with users or customers. There is a huge database with a large amount of information access. People are using social media handles, Google paid advertising. But as we all have heard, some things can never be replaced and one such important element is Email Marketing.
According to trend analysts, the usage of emails is not fading any soon. For all the naysayers who think email marketing is dead, statistics show that the usage of emails will continue to grow every coming year. As per the data of Statista, the usage of email is predicted to increase by 2 to 3 percent each year from 2018 to 2023. And if you think that internet marketing is now social media's empire then you would be surprised to know that as per McKinsey, email is still considered 40 times more effective at acquiring new clients than Facebook or Twitter.
Significance for Businesses
The best time to call me is to EMAIL me anytime.
If said in simple language, email marketing is a way to keep your clients informed and tailor the marketing messages according to their needs matching your business objective. It is a method to use email in order to endorse your services or products. Email is still a king when it comes to internet marketing. It is the main string in the web of digital marketing hence is connected to everything on the internet. It embraces every segment of online marketing including blogs, social platforms, guest posting, etc. Email Marketing can bring your customers close to you or destroy the relationship forever.
If done correctly, it allows you to capture the potential user in the most convincing way than any other traditional method. When a merchant sends you a customized email on your birthday offering special discounts or deals, you feel elite and venerated. Have you ever felt this special with any other advertisement? The answer is a straight NO! As per the Statista 2017 data, 49 percent of the consumers nodded that they would like to receive promotional emails from their favorite brands weekly. Emails are a universally accepted medium for professional communications. It has time and again proven its caliber for the highest-converting strategies.
What Do Studies Say?
A study by The Manifest found that 43% of businesses are expected to spend more money on email marketing in 2019. 87% of marketers use email campaigns to nurture their audiences. Campaign Monitor states that email marketing drives $44 for every $1 spent. 82 percent of workers check email outside of normal business hours (Statista). Businesses all over the world are understanding this area of interest and considering devoting more investment in the sector of Email Marketing. All these studies and researches statistics depict that Email Marketing is still the Lion of the Digital Marketing woods. Email Marketing enhances the quality of marketing campaigns of a brand.
Why invest in Email Marketing?
Huge Target Audience: Only Email marketing has the potential to segregate the customers dividing them into various segments depending upon their area of interests or preferences. Nothing can defeat email marketing campaigns in the direct approach of creating personal level engagement with the user. By writing suitable phrases in the subject line that connects with the receiver's mind, emails serve as a perfect channel to convert the potential customer into a long-term loyal consumer. With such a huge network of customers, you and your brand can initiate a variety of experimental content and find which gets the maximum response and later adopt it. Email Marketing is a sagacious way to stay in touch with the targetted audiences and slowly push the mind of the buyers to get involved in the buying-selling process for a longer period of time.
Foster credibility: Everyone is well aware of the SPAM folder in their email accounts which we hardly pay any attention to. Several times we mark the content as spam without reading them because of their dubious or bleak subject line. So it is a matter of great consideration to format and design your emails in a promising way to avoid getting marked as spam or getting deleted. There cannot be any fixed set of rules for getting the attention of a customer. Sometimes, it takes just a word or emoji to uplift the mood of a customer and you may also face unsubscription with the same type of content. You must know what your readers want and tailor your tactics accordingly. This way you will probably land in their interest area rather than in the spam folder. There are certain strategies you can use to create a mail that has a checklist or a link so that you and the customer both get along well. Providing the customer with the option to select their preferences like choosing the frequency of emails is more likely to win the situation.
Better brand Identity: Email Marketing is a brilliant way to put your brand into the desired spotlight. It is a total game-changer. Runkeeper is one such example of email marketing to keep improving the subscriber's engagement based on their trust with the brand. It brings the persuasion power to bring back the lost probabilities with relevant and well-curated emails. Don't you want to stand out in the crowded market and become an identifiable brand like RunKeeper and Bonobos? It gives a totally different type of fame once you hold the hand of email marketing. It not only connects you with the customers unswervingly but also gives a clear picture of their mindset. Once you get hold of their mindset and choice, you can deliver exactly what they are looking for. Soon after, delivering their choices-related content, you win half the battle over your competitors. Emails are one of the best ways to get feedback regarding the satisfaction level of your customer. Involve them in the process and your brand will stay with them consciously or subconsciously.
Head-Turning ROI: Email Marketing has a high ratio of Return on Investment (ROI). Who doesn't want to have a higher ROI? Isn't it convincing enough to invest in Email Marketing campaigns? According to ExactTarget, for every $1 spent, email marketing has an average ROI of $44.25. Marketers using segmented campaigns noted as much as a 760% increase in revenue, on the word of Campaign Monitor (2019). It offers you a great option for bucket list buying. There are certain ways like presenting the already bought items, presenting similar purchases, offering special discounts for further purchases. They can make the customers buy your product a bit quicker. When you mention the area of their interest through an item already purchased by them. It creates an inclination in the mind of the user to read the content.
Traffic Augmentation: There are various ways that help you get traffic on your website and one such is through mails. Just put some catchy relevant content about your venture in an email and shoot it to your target audiences. Emails can get you a large amount of traffic if practiced in a good way. The best part of using emails for marketing the convenience it brings along. there is no hassle to scroll up or down the page and read the content or watch the video because you may not find the same content again when you visit back. Emails give you ample time to click and read the content when you have spare time. When a visitor visits your website with a free state of mind, he/she goes through various other verticles as well.
Economic for every level organization: Not every organization can afford a large luxury budget. Not everyone can afford a huge investment. Its low level of investment comes as an advantage for every kind of business venture. No billboarding, no painting, no printing, no wastage of paper, just a simple design idea to catch the attention of the target audience. It is time-saving and economic. It is simple and convenient to communicate. Email is one of the most effective channels for driving purchases; noting a conversion rate of 17.75% in 2018 according to Barilliance. The average open rate of email is nearly 23% while its CTR is 3.71% (Optinmonster).