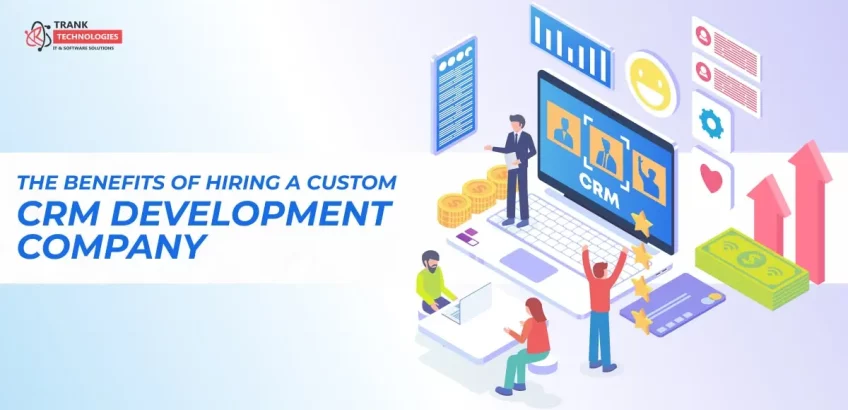 The Benefits of Hiring a Custom CRM Development Company
Maintaining growth and revenue for any company depends on building long-term client relationships. The best way to do that is by using the various options afforded by technology. To simplify these situations, Customer relationship management (CRM) software has become essential for sales and marketing teams to improve workflow and data management. These tools make it easier to keep track of both current and potential customers, making it easier to create and manage relationships.
Before hiring a custom CRM development company or buying custom CRM software, it's important to comprehend that CRM is not a one-size-fits-all solution. Every organisation has different needs, so it's best to pick a CRM that is tailored to your specific needs.
The cost of a custom CRM Software Development Company in India is high. Yet, it is worthwhile to look into considering the effectiveness and ease of administration that these software solutions provide.
ERP App Integration: Connecting Your Business Systems
Every commercial endeavor strives for profits. The key to achieving this is choosing the most appropriate technology.
Besides CRM, ERP is a modular program that keeps various data collected from several departments in one main database. Information from numerous business activities is collected, stored, managed, and interpreted by ERP applications.
To grow your business, you will need to invest in the ERP app development company and CRM software. These applications can help automate key customer-related business processes and support overall core business activities.
A business can keep a sizable amount of customer-related data and monitor customer interactions with a combined ERP and CRM system. All of a customer's data may be readily accessible and maintained on a single platform, including their order history, support requests, shipments to orders, and more.
6 Advantages Of Custom CRM Development Software Company For Your Business
There are many benefits to using custom CRM software for your business. These benefits include improved customer retention, increased efficiency and productivity, and stronger relationships with your customers. Here are some of the advantages of a Custom CRM development company for your business:
1 . Increased internal efficiency
CRM software can be very efficient, but it may not be user-friendly. The software can include a number of resources and capabilities that are advantageous to your company. However, if you use them, you may not be happy with the user interface. Additionally, paying for CRM services that you never use is a possibility.
2 . User Centric Integration
CRM software is designed for use by the general public, and as a result, it can be difficult to use and requires extensive training. This expense can significantly reduce the overall return on investment (ROI) for such software.
3 . Better Integration of sales and marketing team
Custom Customer relationship management software allows businesses to track and segment communication based on customer interests, lead answers, specific marketing activities, and more. This enables businesses to work more efficiently together and achieve greater returns on their investments.
4 . Edge over your competitors
In today's competitive world, having a successful customer management plan is the key to staying ahead of the competition. With the right tools, you can build strong, long-lasting customer connections. Additionally, you can use paid and organic lead-generation campaigns to give your customers even more value. Custom CRM software can include extra features that make the customer experience better.
5 . Better Metrics and Reporting
Most CRMs have strong metrics and reporting features, but they don't always provide the level of detail specific to your business. This can make it difficult to make sound operational decisions because of a lack of accurate data. CRM software is useful for developing reporting capabilities specific to Custom CRM development company needs. It also tracks important data and key performance indicators throughout the client lifecycle, from lead generation to project completion.
6 . Enhanced Data Security
Data security is an important part of any CRM system and can significantly impact the ROI of your business. Even the least security breach can have serious consequences. If you want to use CRM services from a traditional or standard provider, you need to meet their security standards. If the provider experiences any lapses in security, you're at risk for data loss. Custom CRM is the best option for businesses because it allows you to manage your own processes and activities.
Conclusion
CRM software helps companies automate their customer interactions by automating all the processes involved. On the other hand, ERP software is a tool that can help businesses improve their efficiency and transparency in their operations.
Looking for an ERP app development company in India? An ERP solution from Trank Technologies will help you efficiently manage your sales, marketing, and customer service operations. Our CRM and ERP systems will help you increase your profits and improve your business performance. Our professionals also offer comprehensive CRM solutions tailored to the specific needs of your business.