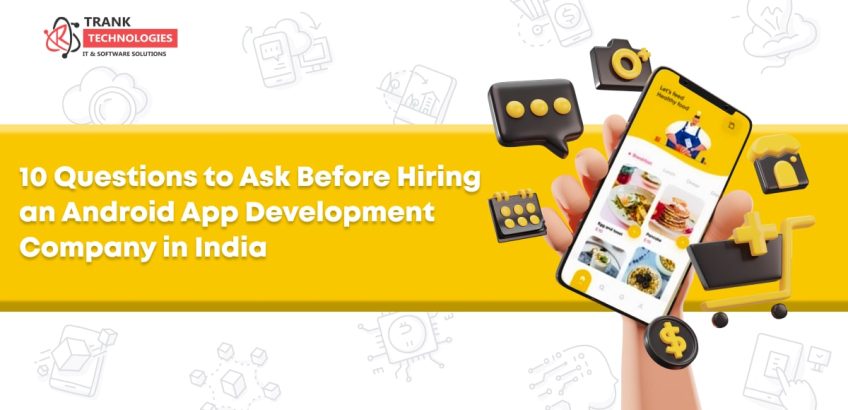 10 Questions to Ask Before Hiring an Android App Development Company in India
The impact of mobile app development on our daily lives cannot be overlooked. Due to the increasing demand for apps, many companies are developing apps for various industries like education, social networking, banking, eCommerce, etc. Selecting the right app development team might be a challenging task with numerous options available.
Working with a reliable and experienced iOS and Android app development company is essential in making your app stand out in this continually enlarging marketplace. Before hiring an app development company, it is important to ensure that they understand your project's requirements to create a fully functional app with distinctive features.
Making the right choice when selecting a company to develop your app is crucial for your business. There are many options available, but if you don't ask the right questions you could end up with a poorly developed app.
Key Questions to Ask When Choosing an iOS and Android Development Company
It is challenging for businesses to choose a company to assist them as many application development companies make similar promises. To keep up with your customers' evolving needs, there are some elements to observe. Before designing an app for your business, ask these top questions to your Android and iOS app development service in India beforehand:
1 – Check out Their Previous work
To ensure the success of your app, it is noteworthy to choose developers who can understand your company's business essentials. Examining their previous work can give you an idea of their performance and help you determine if they are a good match for your business.
2 – Sharing Customer Data
When choosing an application development company, it is important to look at their past and present track record of working with clients. Some companies may say they have worked with big brands, confirming this is essential. This information can give you an idea of how the company works with clients during app development. Having hands-on experience is just as crucial as having technical skills when it comes to app development.
3 – Examine the Platform they use
Contact the app developers to ask which platform they have been successful in developing on. This information will help you decide if they are a good fit for your company's growth and goals. Additionally, check if they are proficient in the programming languages you want to use. If they are knowledgeable in cross-platform applications, it may be advantageous for you.
4 – The Account of a Developer is Required
It is crucial to check if the developers you are working with have a developer account for publishing their apps. By doing so, you can see the apps they have released and gain a better understanding of their app development process and progress.
You can also read – Hiring a Skilled iOS App Development Company
5 – Explicit Explantation of your Development Process
The question aims to determine if the agency provides beta testing services in a favourable manner. Knowing the answer can help determine if they are solely responsible for developing the app or if they are also willing to offer quality assurance services. Here is the list of services an Android and iOS app development company in India provides:
Business Analysis
Quality Testing
Successful Project Launch
Post-Launch Maintenance
Ensure to inquire about these aspects as well to avoid being duped by app development firms.
6 – Industry Domains and Sectors You Offered
Asking this question will help you understand which industries the app development agency has worked with such as travel, education, retail, healthcare, etc. Knowing this information will help you decide whether your app fits in any of these categories.
7 – Estimated Project Timeline
Before submitting an application it is important to ask how long it will take for the firm to complete and send it out. Different firms have varying timelines, but it is crucial to prioritize the quality of the job over development time. It is also essential to have a plan for building trust among users before the app is released.
8 – Post Launch Services
No app will immediately succeed upon launch. Despite thorough testing beforehand, there will likely be a need for quick bug fixes and additions of new features, updates, and functionalities. It is essential to inquire about post-launch updates from the company as well as understand their policies and rules regarding maintenance and support.
9 – Upgrades, Support, and Maintenance for Applications
Regular maintenance for apps is essential for their success, as their effectiveness is not determined at the time of their launch. Updating and maintaining them regularly to meet the evolving needs of clients. Make sure to inquire about the cost and inclusion of post-release support from the app developers.
10 – Data Security Regulations
Data Breaches caused by unsecured data and inadequate security standards during app development have negatively affected numerous companies. To prevent data loss and ensure long-lasting apps, it is important to only collaborate with app developers who prioritize secure coding practices.
Conclusion
To build lasting relationships with customers, businesses need a mobile app. Failure to have an Android app may result in losing customers to competitors with more advanced app features. Make sure you ask all of the above questions before hiring an Android app development company in India.
Numerous companies that specialize in creating iOS and Android applications claim to be the best. However, it is essential to conduct thorough research to safeguard your brand from fraudulent strategies.