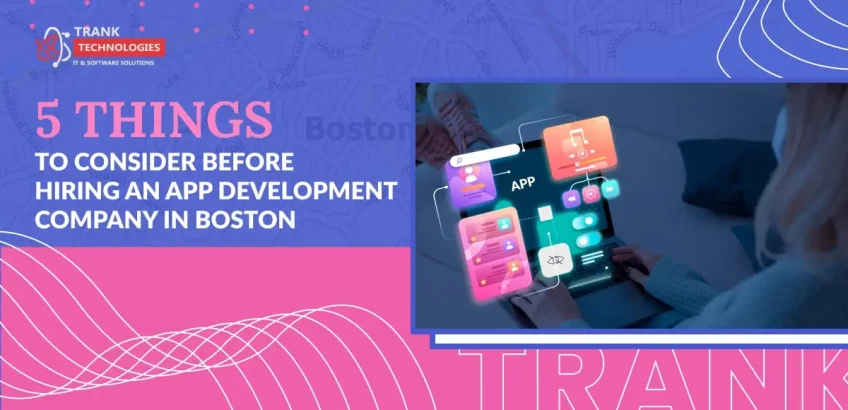 5 Things to Consider Before Hiring an App Development Company in Boston
The process of creating mobile applications that can run on mobile devices is called application development. These applications may be pre-installed or downloaded and later installed by the user. They use the device's network capabilities to access computer resources remotely.
Creating software that can be installed on the device, enabling backend services to access are part of the mobile application development process.
When building scalable mobile apps, you must consider screen sizes, hardware requirements, and many other aspects of the app development process. The app development agency process needs to be well understood by entrepreneurs, startups and developers as the number of jobs increases.
Choosing a Boston App Development Company: 5 Things to Consider
Studies show that more than 68 per cent of the U.S. population owns a smartphone. 81% of mobile device users search for a product or service online, while 26% search for apps for that product. If your business has an online presence (website or even an app), it makes a great first impression.
Launching a new, user-friendly mobile application is one of the best ways to increase your company's sales. Many businesses hire mobile app developers to create the best mobile apps, but not all are reliable. To resolve this issue, one must hire a reputed and reliable app development company in Boston that offers multiple cross-platform app development services.
Listed below are the 5 factors to consider while choosing an app development company in Boston.
1 – Portfolio and Positive Feedback
The two critical factors to consider when hiring a mobile app development company are Positive feedback and Portfolio.
Checking reviews is one of the most reliable ways to verify the experience and reputation of the development company. The reviews and feedback from previous clients can confirm the quality of work and mobile app development knowledge you need.
On the other side, reviewing a company's mobile app development project portfolio is another way to cross it off the list. Review success stories and case studies to see if there is a track record of mobile app development.
After reviewing the portfolio and reviews, ask the software provider for the contact information of clients who have done mobile application projects.
Inquire about their references, as this is a good way to learn about the experience and intricacies of the partnership.
2 – Expertise in the Domain
Another point to consider with development companies is their experience in the field. Only experts who know your product can help you avoid costly development mistakes and achieve maximum benefits.
3 – Cost of App Development
The app development cost is the most important factor when choosing a partner. Always pay attention to the quality of the project, even if the price is high. Do not choose the cheapest option
4 – Good Customer Service
More size doesn't always mean superiority. What matters most is knowing that the team working on your project is reliable and dedicated, that they understand your story intimately, and that they deliver value on an ongoing basis. All of this is often the case with small software development companies.
These software providers offer more personalized services to their clients and respond quickly to their needs and expectations.
5 – Technical Expertise
If you want to hire a mobile app development company, you should first find out about the experience of your technology partner. You should trust your project to a software provider with extensive experience, just as you would trust your life to a well-trained pilot. Look for an app development agency with extensive experience in iOS or Android app development. You could begin by developing a mobile app for one platform only and then expand to another later.
Conclusion
Looking for an app development company in Boston? Trank Technologies is a leading application design & development agency in Boston that delivers custom apps and web-scale your business in Boston. We are deeply committed to creating extremely appealing apps that carefully adhere to business needs and serving a wide range of projects with the utmost client satisfaction in mind.