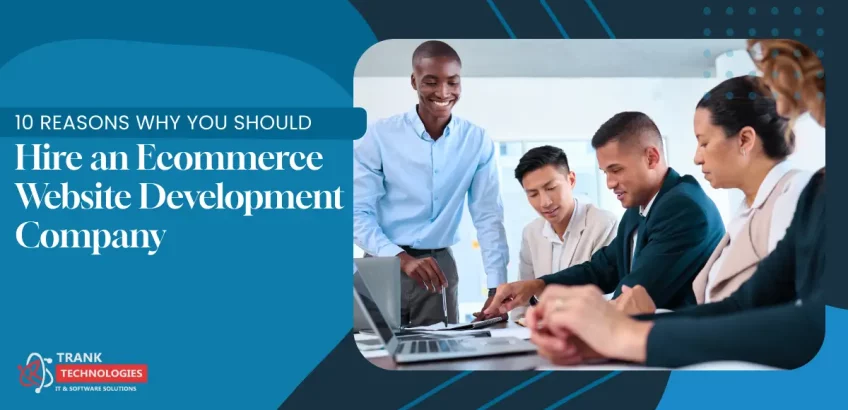 10 Reasons Why You Should Hire an Ecommerce Website Development Company in India
E-commerce website development is the process of creating an e-commerce website. Front-end and Back end processes include payment processing, checkout system, site security, and more. Since e-commerce websites are more popular in today's competitive world, creating one can increase your business's income and conversions.
Looking for an eCommerce website development company in India? You must search for the best in the market that streamlines website creation and enhances the online user experience. By assisting you in setting up an online store for your company, an eCommerce platform helps you sell products. On the other hand, if you want to work with an eCommerce app development company, then you must check whether they provide user-friendly features that make online ordering for retail clients simpler.
Top 10 Benefits of Hiring an Ecommerce Website Development Company
According to the current trend, choosing eCommerce web portals is the best approach to generating cash and establishing a brand identity. Due to numerous benefits, businesses are choosing to employ online storefronts. Business organizations don't need to have physical locations everywhere since there are online retailers in the form of online stores. Here are a few advantages of having an eCommerce website development company that brings value to your business:
Creates a first impression for your company – Your website is likely where potential customers will encounter your brand. A strong brand impression from your eCommerce development can persuade potential buyers to spend more time on your website.
Expands your business reach – an eCommerce web development company makes it simple for your business to improve its reach to clients who are unable to visit physical locations.
Makes Marketing much simpler – Marketing makes it very easy for your company to get you more loyal and reputed customers.
Helps in the improvement of SEO Strategy – Any SEO plan must include the building of an e-commerce website. Website ranking on search engine result pages can be affected by factors such as page speed, the responsiveness of the coding, and site URLs.
Brings the convenience of shopping– With only a few clicks they enable customers to purchase products from any location in the world.
Aids in understanding your clients– An eCommerce platform enables business owners to learn about client interests. It is simple for them to persuade customers by making offers on their chosen products.
Helps you to stand out of competition – Ecommerce website development is a terrific strategy to remain ahead of the competition and helps you stand out from it. The eCommerce agency can assist you in creating a high-quality, up-to-date website that will outperform your rivals and attract more leads and visitors.
Flexibility – When selling online, businesses have more options thanks to technologies like service automation and AI software.
Increased Sales – The availability of items around-the-clock and 365 days a year leads to an increase in sales. You automatically sell more and change your stock when you aren't constrained by the size of the neighbourhood market or the physical store.
Lower Operating Costs: E-commerce is the most cost-effective strategy for expanding your retail company. Drop-shipping services are offered by several e-commerce platforms to vendors, which reduces storage and delivery costs.
5 Benefits of Hiring an Ecommerce App Development Company
One must consider working with a reputable mobile app development company if they want to succeed in today's fiercely competitive company environment. Therefore, businesses need to increase revenue by creating the greatest mobile applications. Your company can expand and prosper with the aid of a top-notch group of skilled eCommerce app developers, graphic designers, and project managers.
Hassle-Free Work
Cost and time-effective application development
Availability 24*7
Trusted technical resources
Project Tracking
The Importance of UX/UI in E-commerce App Development Company
E-commerce mobile applications are created with the goal of reaching customers with new offers, services, and products. To accomplish this, the application must have a conversational UX UI design in order for the promotions to be carried out with ease. To capture customers' attention and keep them hooked for life is the primary goal of having a standard UI/UX Interface. Your clients will be familiar with your application thoroughly after just one use with the help of standardized design, which increases brand memory.
Conclusion:
It is now obvious why working with an independent firm that develops e-commerce websites or apps is far preferable to working with independent developers. The website is the best platform for reaching your audience with your messages. It must have the best staff possible in order to boost traffic and boost conversions. Trank Technologies is an eCommerce app & website development company in India. We offer organizations cutting-edge technology so they may improve customer service and boost their internet presence. To deliver a flawless user experience, our experts work with app designers and website developers to comply with the most recent technological standards.